The vision software package for robot guidance optionally supplied with FlexiBowl® systems
FlexiVision is a PC vision software for robot guidance that can be optionally supplied with FlexiBowl® systems.
FlexiVision, which is developed on Cognex vision library, supports multiple cameras and offers a great flexibility.
The system is compatible with a large variety of industrial robots and it permits a quick development of FlexiBowl® feeding cells: no advanced programming competences are needed.
The main features offered by the system include:
Dynamic control of all FlexiBowl® functionalities (acceleration, speed, angle, flip)
Bulk feeder hystogram control
Robot and camera calibration
Vision models of the parts
Coordinates to robot
Robot Pick&Place sequences
Robot communication control
Receipt Management
Geometry and pattern matching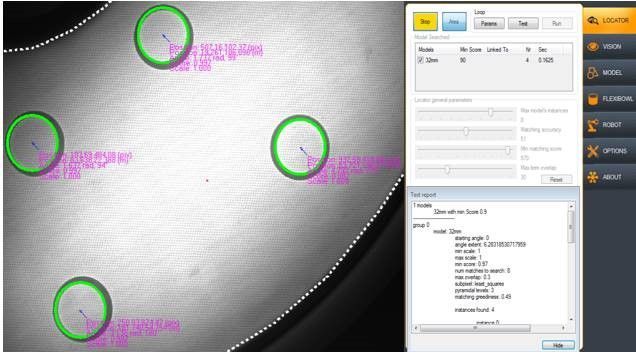 Connectivity
Digital I/O, TCP/IP,
UDP, Ethernet-IP
Linear Hopper
Drops components and rear emptying
Diverter/ Blow Unit
Diverts components from the ring
Rotary Disc
Custom Discs upon request
Flip Unit
Separates components
Backlight
Quick Emptying
Automatic Product Changeover
Quick Release
Quick Disc Change
Toplight
FlexiVision System
Sends parts coordinates to the robot.
Controls feeder movements and manages
the parts flow from the hopper.
Parts database manager.
Indipendent and
simultaneous activities.
Dropping
A
Indipendent and
simultaneous activities.
Separating
B
Indipendent and
simultaneous activities.
Picking
C
Indipendent and
simultaneous activities.
Recirculating
D
Diverter/ Blow Unit
Diverts components
from the ring