Global population that rapidly grows older, shortage of health care professionals and congestion in public hospitals that the recent pandemic has deeply worsened are among the reasons behind the urgency of health care services being delivered at home. Medical devices have been evolving accordingly.
Smaller, cutting-edge materials, sophisticated electronic, those are just some of the characteristics of todays' medical device that are becoming closer and closer to consumer electronic products. As much as the size shrinks, the performances and features raise.
Alongside the evolution of the medical products, the manufacturing techniques shall be compliant to zero-defects and challenging assembly requests. Small parts size, delicate materials and complex geometries make manual operations tough to perform, so advanced automated solutions are needed to carry out assembly, packing and testing operations.
The versions of Flexibowl® certified for use in ISO Class 5 controlled environments as defined by ISO 14644-1 maintain all the functions of the standard FlexiBowl®.
Main features:
Pneumatic components specific for cleanroom use;

Back-lighted glass plate

Perforated top screen to favor laminar flow

Available for Flexibowl® 500/650/800 feeding systems

Product contact surface suitable for cleanroom use

Cap in natural white polyethylene to prevent component jams at center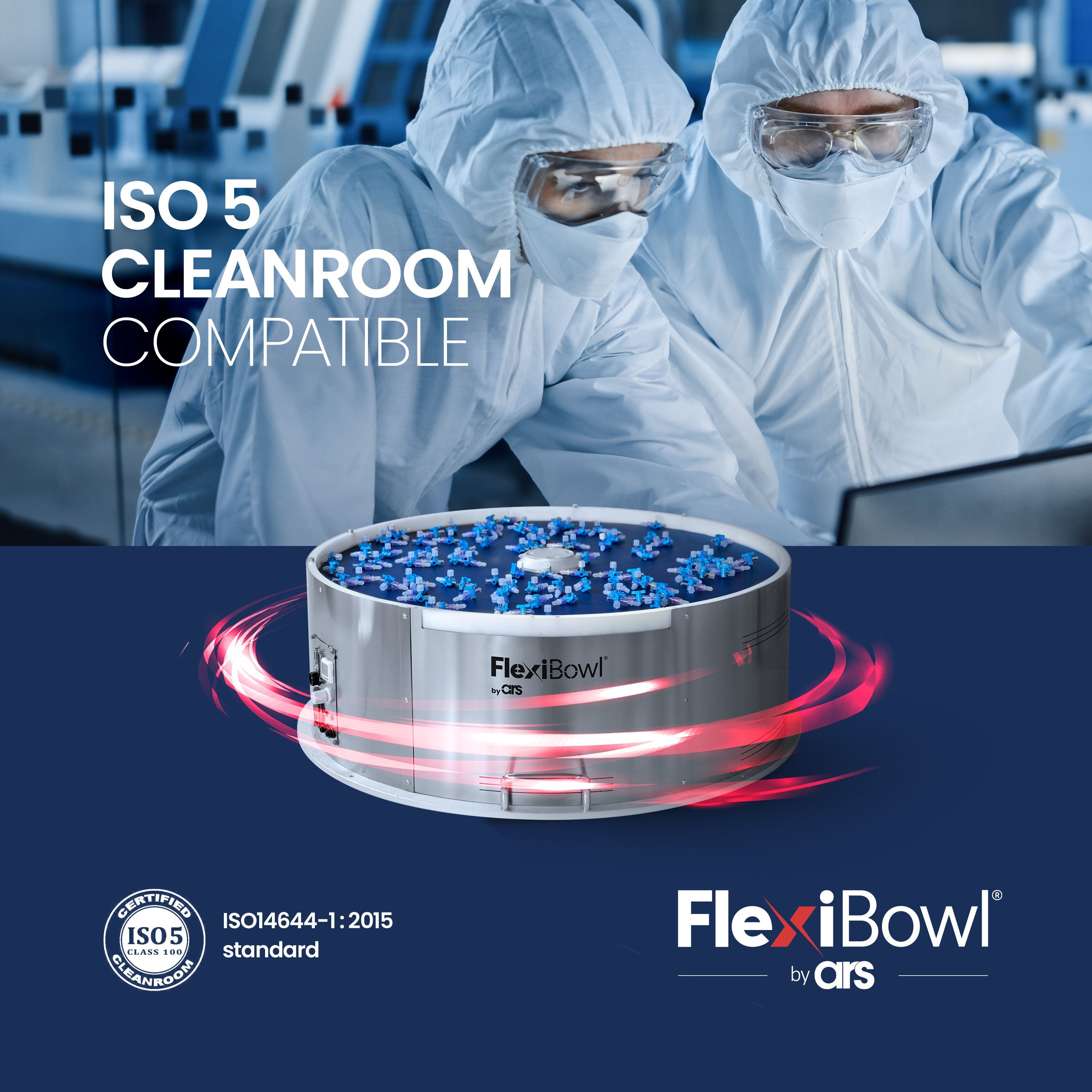 Hard automation equipment may have a hard time in coping with a rapidly changing manufacturing environment where design decisions should be flexible enough and reduced time to market is vital for the company competitiveness.
Flexibility, modularity and absence of mechanical reconfigurations make FlexiBowl patented solution a must-have equipment for the most advanced manufacturing processes in the medical industry.
Active implantable medical devices include implantable cardiac defibrillators (ICDs), cardiac pacemakers, coronary stents, interocular lenses, implantable insulin pumps and hip implants. Those will help improving the quality of life and reduce mortality in a global population where lack of physical activity and unhealthy food education are part of today's stressful lifestyle.
Likewise medical disposables some medical devices manufacturing volumes are expected to grow steadily to reach similar volumes to consumer electronic products. High feed rate and cost-effective flexible feeding solutions are a mandatory step toward keeping up with the throughput goals.
Medical device design practices are subject to audit by the US Food and Drug Administration (FDA). Once FDA approval process is successfully passed, ramp to production is fast. Products that have been designed with DFM/DFT (Design for Manufacturing, Design for Test) stand a much better chance of ramping to volume successfully.
Why should you invest in a FlexiBowl feeding unit?
Its lack of dedicated tooling and its easy-to-use and intuitive programming allows quick and multiple product changeovers inside the same work shift.
FlexiBowl® solution is highly versatile and is able to feed parts with every:
- Geometry
- Surface
- Material
Its rotary disc are FDA certified and keep antistatic filaments that prevents accumulation of electrical charges on its surface, suitable for electric components. Thanks to its unique working principle provides the best feed-rate in its category.
Challenge the various applications it may be applied in your manufacturing operations!