FANUC Robots and FlexiBowl Parts Feeding System plug-in
Flexibowl is a fully FANUC Robots-Compatible Parts Feeding System.
We developed this Plug-in to communicate with FlexiBowl® simply and reliably through FANUC robots, using instructions in the KAREL language.
Our cutting-edge Plug-In Technology enables effortless interaction between FANUC Robots and FlexiBowl Parts Feeders, guaranteeing optimal parts feeding rates. This innovation elevates pick-and-place and assembly processes to new efficiency and precision levels. We designed the flexi-parts feeding system to handle components of various sizes and complexities efficiently, ranging from delicate and small parts to weighty items, even including those with complex shapes.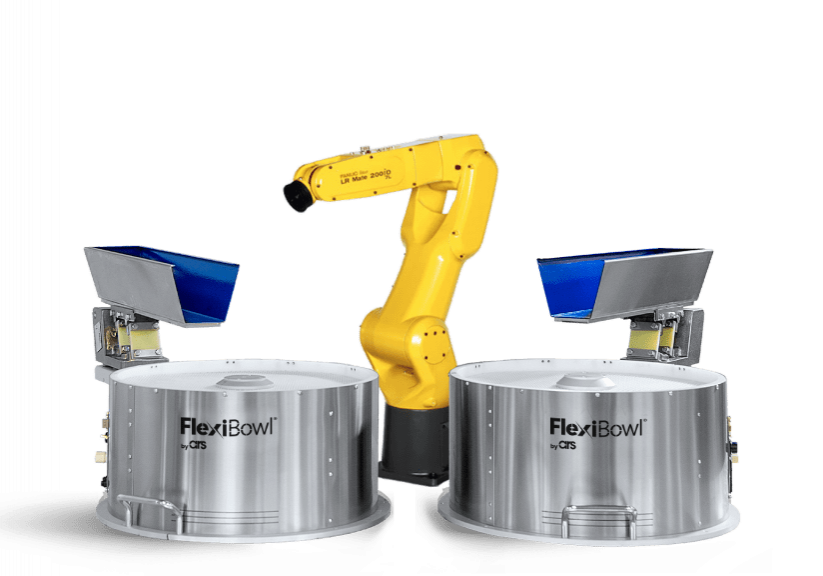 Plug-In Enables Simple Integration of FANUC Robots and FlexiBowl Parts Feeder
FlexiBowl® is compatible with the entire range of FANUC robots.
Possibility to fully manage the FlexiBowl® from the robot controller.
 The KAREL script allows to control all the FlexiBowl® functions, through commands in TCP/IP or UDP, making it fully integrated device.
Possibility to control multiple FlexiBowl® simultaneously.
Compatible with every model of FlexiBowl®.
FANUC CRX PARTNER
Flexibowl is a partner product of FANUC. Discover how FlexiBowl and FANUC allow cost-effective and efficient production processes in many industries.