A feeding solution to feed 10 different metal parts simultaneously | Case Study
The challenge: feeding metal parts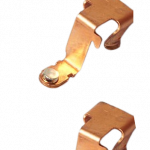 Manage 10 different metal components simultaneously.
Be able to adapt change production and manage an additional 10 parts, for a total of 20 different components.
Maintain a compact layout.
Minimize waste, increase efficiency, reduce production time and operating costs.
Two FlexiBowl® 800 feeders equipped with a 5-sector disk, for the simultaneous feeding of ten different metal components.
An ABB 6-axis robot with an integrated vision system to increase the precision of the process.
Adopt an innovative hopper arrangement for a controlled and orderly unloading process.
An optimized production layout with a reduction in machinery investment.
High precision and a reduced error rate for a reliable and efficient production process.
Flexibility to adapt quickly to market needs and the introduction of new products.
The elimination of the need to install customized machines for each type of component.
Get the complete case study
Abstract
In collaboration with our partner YK Robotics, we present a project for improving productivity, which saw the installation of two FlexiBowl® 800 flexible feeders equipped with a 5-sector disc and an ABB 6-axis robot to feed metal parts. The system allows the management of ten different metal components simultaneously, with the possibility of a quick production change for an additional ten pieces, up to a total of twenty, all in a compact layout.
Industry insights
In the current competitive context, optimization and flexibility of production layouts are essential to stay in the market. We live in the era of Industry 4.0, characterized by constantly evolving processes to meet the changing needs of the market and new technologies. An optimized system allows to reduce waste, maximize efficiency, reduce production times and operating costs. Flexibility, on the other hand, allows the production line to be quickly adapted to introduce new products or respond to market variations.
Do you want to find out if FlexiBowl® is the right solution for you?
Don't hold back, fill out our form and send us your samples for a complimentary feasibility test. We're eager to help you explore the potential of your project!