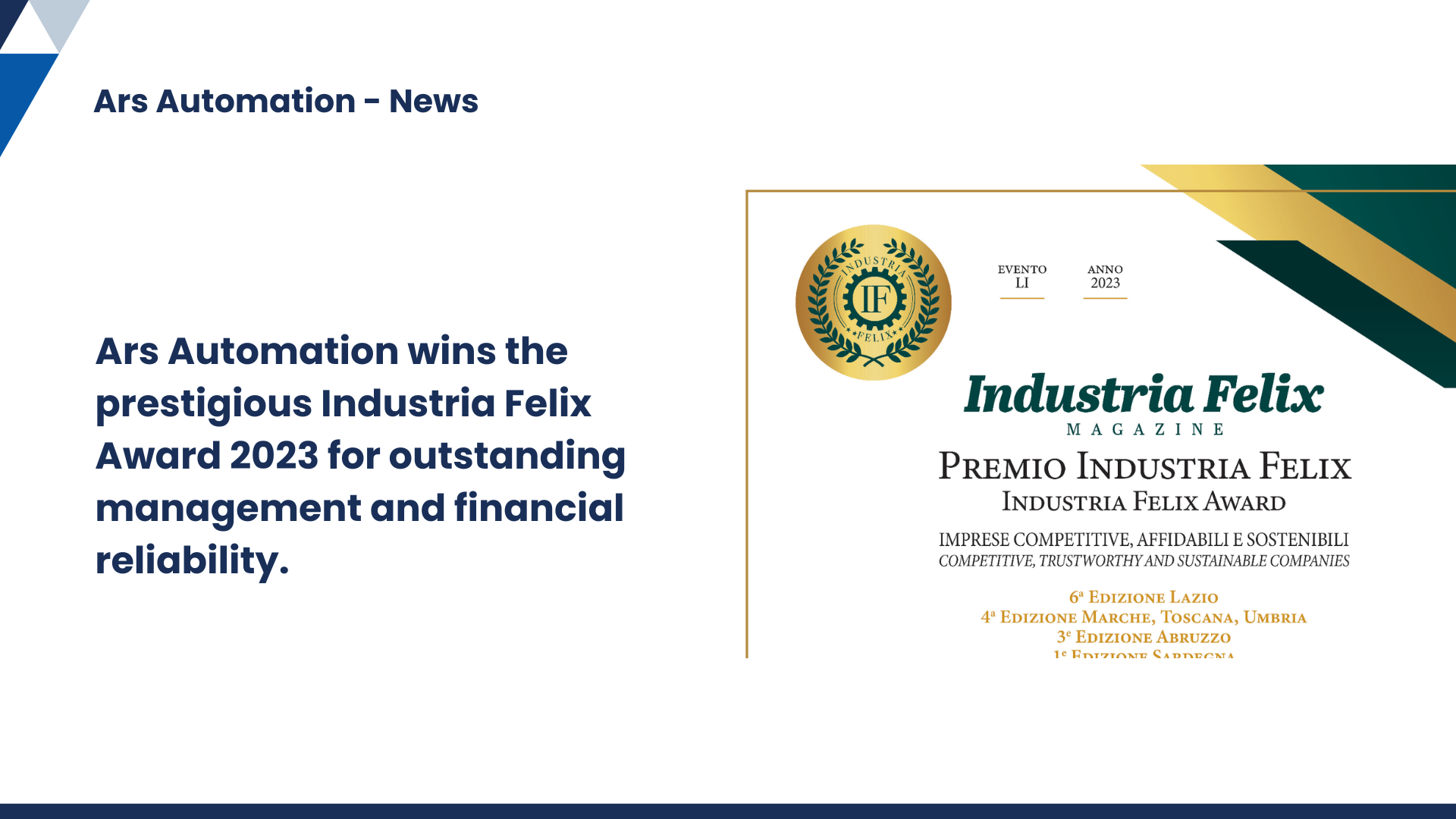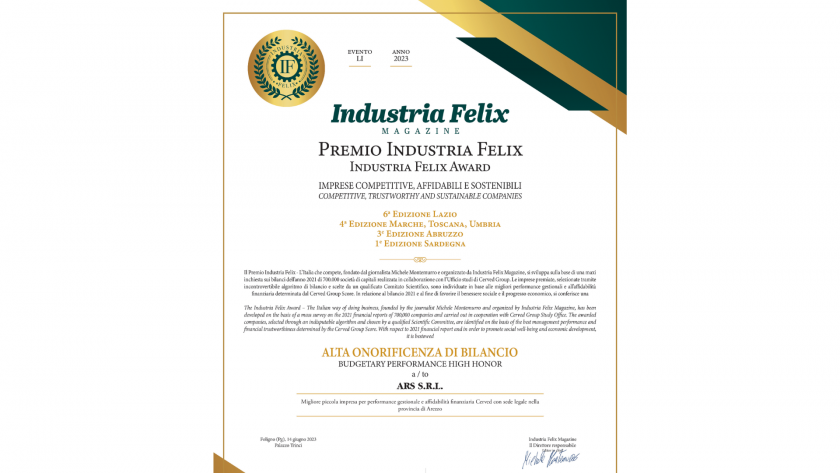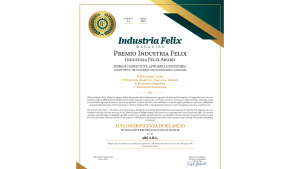 The Industria Felix Prize 2023 edition
We're thrilled to announce that Ars Automation, our well-established industrial automation company, has secured the Industria Felix Award 2023 for Best Small Business for Management Performance and Financial Reliability, presented by Cerved. This recognition highlights their outstanding achievements and positions them as a leader in the industrial automation sector.
We received this prestigious honor at the 51st annual award ceremony held at Palazzo Trinci in Foligno (PG). This event celebrated 74 leading companies from Central Italy and Sardinia. We feel immensely proud to earn the title of the best small business in the industrial automation sector.
Outshining in Tuscany
Among the nine honored companies in Tuscany, we stood as the sole representative from the province of Arezzo, particularly due to our financial stability. As Marco Mazzini, our founder and CEO, proudly shared, "This award underscores our financial robustness and lauds the consistent efforts of our entire team. Our strong 2021 financial performance reflects this dedication, and this award fuels our commitment to growth and expansion."
Commitment to Excellence and Innovation
Following this, the recognition propels us to further invest in our company, prioritizing resource enhancement, process refinement, and continual innovation. Guided by a clear, practical approach, we remain forward-looking, eager to build on our achievements.
Ambitious Goals on the Horizon
"We've set ambitious targets for the next three years," highlights Andrea Mazzini, our Managing Partner. "We aim to expand our operations globally, bring new products to market, and reduce our environmental footprint. These goals are challenging, but with our dedicated team, we're confident of achieving them. This award serves as further motivation."
Industria Felix Award 2023 Details
The award came from a national Scientific Committee, under the coordination of Professor Cesare Pozzi of Luiss Guido Carli University. Industria Felix Magazine organized the event, supported by esteemed institutions like Cerved, Luiss Guido Carli University, the Industria Felix Cultural Association, and Confindustria.
A Rigorous Selection Process
In the Industria Felix Award 2023 selection process, Ars Automation underwent a thorough financial examination along with roughly 700,000 other Italy-based companies. Our successful 2021 fiscal year, marked by positive results and solid financial management, played a significant part in our achievement.
Sound Financial Health
The Industria Felix review followed objective criteria to assess each company's financial health. The findings indicate that we're efficiently managing our Operating Income (MOL) and Return on Equity (ROE). We've maintained our financial expenses/Operating Income ratio below 50% and continue to increase our employment levels.
Beyond Numbers: Impacting Society and Economy
At Ars Automation, our focus goes beyond mere numbers. We're determined to positively influence our local economy and society by leveraging a sustainable growth model, an approach we believe paves the way for a prosperous future.