ARS will be present in 2022 at the main trade fairs and events dedicated to Robotics and Industrial Automation.
We have officially decided to be present with our flexible feeding system FlexiBowl® and all the new options and innovations to show new applications for the assembly of components and parts in industrial production lines.
Below is the 2022 Trade Fair Calendar for robotic and industrial automation where it will be possible to visit the official ARS stand and meet the staff:
ATX West - Anaheim, CA, United States, April 12-14, 2022
Global Industrie, Paris, France, May 17-20, 2022
Automatica - Munich, Germany, June 21-24, 2022
Assembly - Chicago, IL, United States, October 25-27, 2022
Furthermore, also in 2022, our partners and distributors will be taking FlexiBowl® to many other Fairs for Robotics and Industrial Automation.
SIMODEC, La Roche sur Foron March 8-11, 2022, (Guignard Stand);
Advanced Factories, Barcellona, Spain, March 29-31 2022 (Vicosystem stand presented by PMZ);
FIP Lione, France, April 5-8, 2022 (Guignard Stand);
Indumation Kortrijk, Belgique, May 18-20 2022, (Axysto Stand);
On 25 of May at Robotics exhibition in Israel, Mr. Haim Zeherman, Automation & Robotics Manager at SU-PAD,
Hispack Barcellona, Spain March 24-27 2022 (PMZ Stand);
Automate Detroit, MI, United States, June 6-9 (Schneider & Co. Stand);
SIDO Lion, France September 14-15 2022 (Guignard Stand);
Assembly, Chicago, October 25-27 (Schneider & Co. Stand);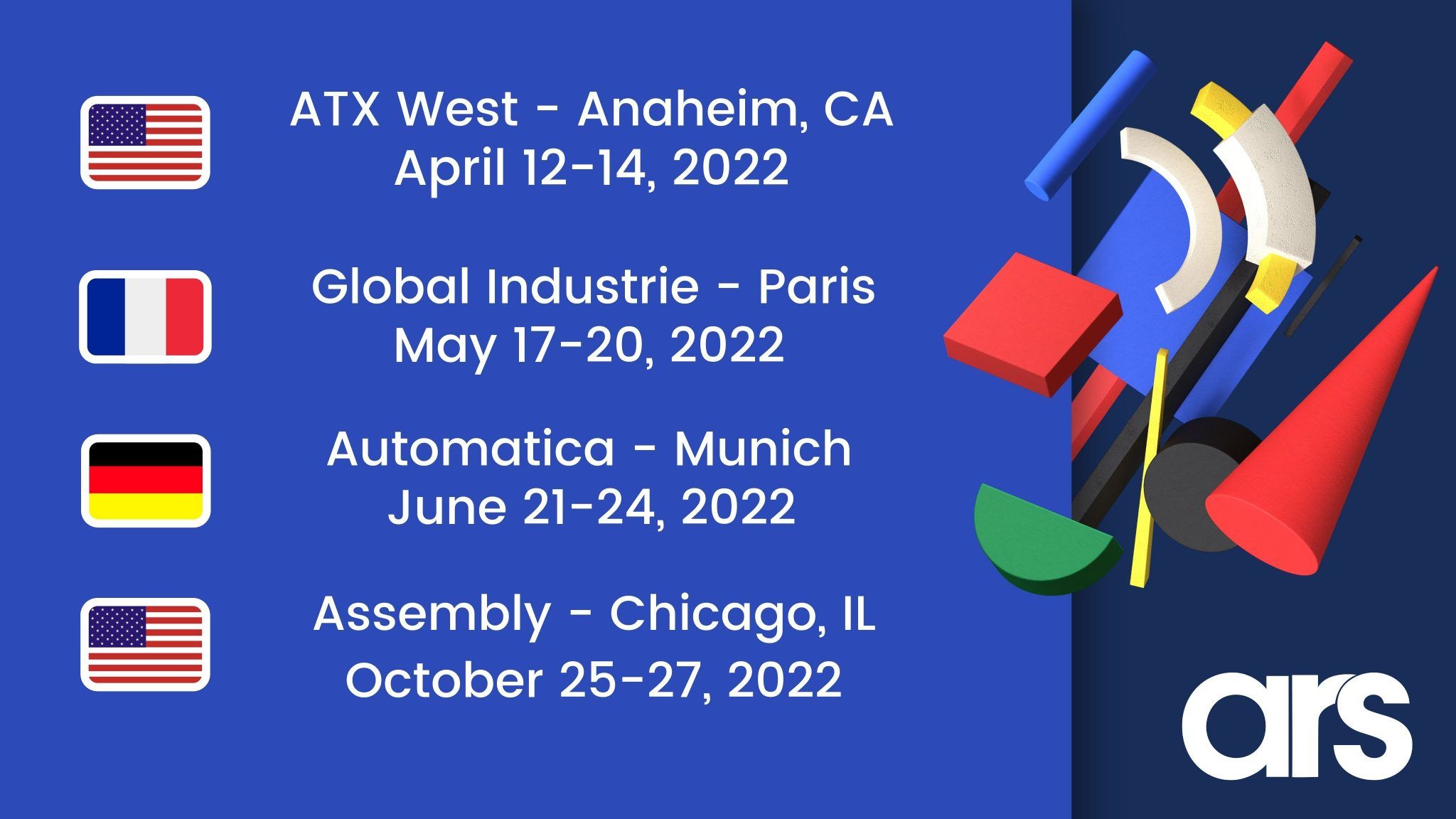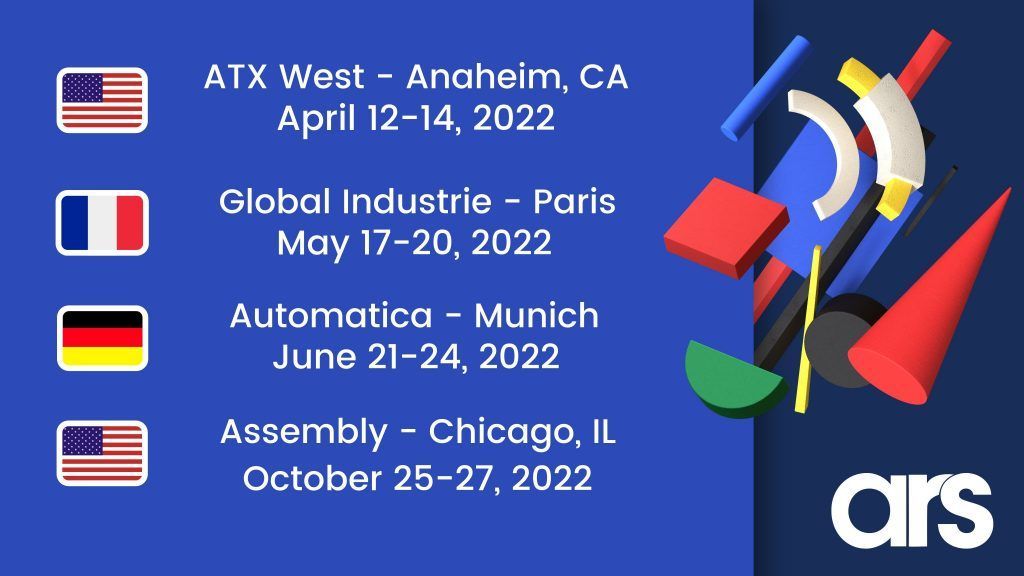 Are you a FlexiBowl® Partner or Distributor? Are you exhibiting at the next Trade Shows in 2022? 
Contact us for the most updated FlexiBowl Marketing Materials!
Here are the other main Robotics and Industrial Automation Fairs of 2022, month by month:
Robotics and Industrial Automation Fairs in January 2022
Automaticon - Poland, January 26-28, 2022
Robotics and Industrial Automation Fairs in February 2022
Southern Manufacturing & Electronics - United Kingdom, February 8-10, 2022
Robotics and Industrial Automation Trade Fairs in March 2022
All About Automation - Germany, March 8-9, 2022
IREX - Japan, March 9-12, 2022
R-22 - Denmark, March 23, 2022
European Robotics Forum - Netherlands, March 22-24, 2022
Robotics and Industrial Automation Fairs in April 2022
Mach - United Kingdom, April 4-8, 2022
STOM Kielce - Poland, April 5-7, 2022
Hannover Messe - Germany, April 25-29, 2022
Robotics and Industrial Automation Trade Fairs in May 2022
SMART Automation - Austria, during the month of May 2022
Mach-Tech - Bulgaria, May 10-11, 2022
ELMIA Automation - Sweden, May 10-13, 2022
AMPER Brno - Czech Republic, May 17-20, 2022
Global Industrie - France, May 17-20, 2022
Indumation - Kortrijk, Belgium, May 18-20, 2022
National Supply Chain Exhibition - May 25-26, 2022
Robotics and Industrial Automation Fairs in June 2022
EPHJ - Switzerland, June 14-17, 2022
WIN Eurasia - Turkey, June 8-11, 2022
MECSPE - Italy, June 9-11, 2022
Vision, Robotics, & Motion - Netherlands, June 8-16, 2022
MED-TECH INNOVATION EXPO - United Kingdom, June 8-9, 2022
Robotics and Industrial Automation Fairs in September 2022
Medical technology Ireland - September 21-22, 2022
SIDO Lion - France, September 21-22, 2022
Robotics and Industrial Automation Fairs in October 2022
Motek - Germany, October 4-7, 2022
Processteknik/Scanautomatic - Sweden, October 10-20, 2022
ROBOTWORLD - International Robot Exhibition - South Korea, October 26-29, 2022
Robotics and Industrial Automation Fairs in November 2022
Warsaw Industry Week - November 7-9, 2022
SIDO Paris - France, November 8-9, 2022